How do you feel about our work?
Did we meet or exceed your expectations?
Click one of the links below and let us know by leaving a recommendation for others to view.


Facebook
You may also leave your comments and feedback by filling out the form below. If you encountered a problem or didn't like our work, we need to know about that as well. Please tell us about it so we can make it right. Your input helps us improve our business.


Here is what some of our customers are saying
Amazing Communication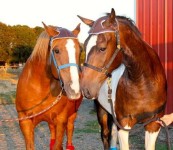 We hired Gilfry Transport to bring our two warmbloods, from OR to CA. The tricky part of this was that they were both rescue cases and to the best of our knowledge had never been trailered. From begining to the end of our transaction, they kept up amazing communication to the point where they dispelled… Read more "Amazing Communication"
Teri V